Gamma Knife Center
Location Hours:
Monday - Friday | 9:00 a.m. - 6:00 p.m.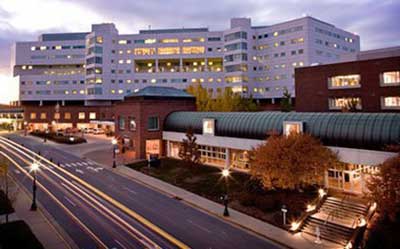 Parking: Free with validation, using your green parking ticket when you register at your appointment. Use the Lee St. and 11th St. parking garages.
Floorplan (PDF)
Shuttle service: Runs every 30 minutes, Monday-Friday, 8 a.m. - 6 p.m. Find shuttle stop locations.
Overview
Gamma Knife is a noninvasive technique used to treat neurological conditions, including acoustic neuromas, metastatic tumors, pituitary adenomas, epilepsy and movement disorders. It's safe and effective in performing brain surgery without entering the skull. No knife or scalpel is used; Instead highly focused beams of radiation target specific areas of the brain to treat your neurological condition.
Advantages to Gamma Knife include:
Treatment is performed in a single sitting
There's no cutting or shaving of the patient's hair
Hospital stays are shorter and require less recovery time than traditional surgery
This surgery avoids many of the risks of open surgery such as hemorrhage, infection and cerebral spinal fluid leak
The optimized radiation dose minimizes the risk of damage to the brain and thereby preserves normal brain function
Our center has treated more than 10,000 patients from 54 countries and across the United States.
Learn more about what conditions we treat with Gamma Knife at UVA.
What To Expect
Before treatment your doctor will inform you about the entire procedure, which includes four components:
1. Head frame. The lightweight stereotactic head frame allows us to accurately pinpoint the target area of treatment. It prevents your head from moving during imaging and treatment procedures.
2. Imaging. Imaging, including MRI and CT scans, is required to determine the exact size, shape and position of the target in the brain.
3. Treatment planning. Every patient's plan is individually designed to address their specific condition.
4. Treatment. You're awake during the procedure and can communicate with your care team through an audio-video connection. The treatment is silent and comfortable, and you'll be able to listen to music during the procedure. The treatment will last a few minutes to more than an hour, depending on the size and shape of the target. You can return to your normal routines a day or two later.
Follow-up
The effects of your treatment will occur over time. Your doctor will stay in contact with you to assess your progress, which may include follow-up MRI, CT or angiography images.