Head and Neck Surgery Clinic
Fontaine Research Park
Second Floor
415 Ray C. Hunt Dr.
Charlottesville, VA 22903
Location Hours:
Monday - Friday | 8:00 a.m. - 5:00 p.m.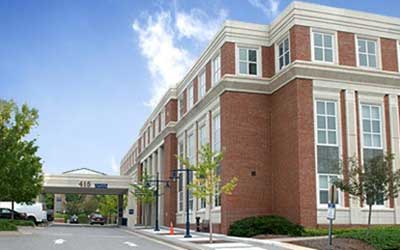 Parking: Free for patients and visitors
Shuttle service: Runs every 30 minutes, Monday-Friday, 8 a.m. - 6 p.m. Find shuttle stop locations.
Overview
The Head and Neck Surgery Clinic provides comprehensive treatment of conditions affecting the head, neck, ear, nose and throat for both adults and children, including:
Cochlear implants
Nasal surgery
Removal of complex skull-based tumors
Tinnitus treatment
Ventilation tubes in children's ears
Learn more about our ear, nose and throat services.