Heart and Vascular Center
Location Hours:
Monday - Friday | 8:00 a.m. - 5:00 p.m.
Cancellations require 24-hour notice.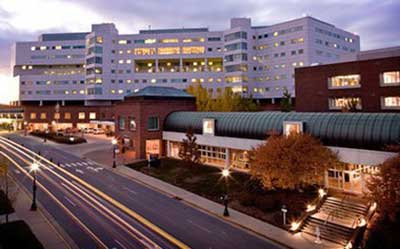 Parking: Free with validation, using your green parking ticket when you register at your appointment. Use the Lee Street Parking Garage directly across the street from University Hospital and Emergency Department.
Floorplan (PDF)
Overview
The Heart and Vascular Center offers convenient access to comprehensive cardiac care. Whether you're seeing us for routine testing or major surgery, your cardiologists, heart and vascular surgeons and entire care team are committed to providing you and your family with the highest quality of care.
Our Heart and Vascular Center clinics and services include:
Atrial fibrillation center
Device clinic
Heart failure and transplant center
Cardiac valve center
Electrophysiology
Echocardiography
Cardiovascular genetics clinic
Adult congenital heart disease clinic
Diagnostic vascular lab
Vascular surgery
Vascular medicine clinic
Valve center
Cardiovascular imaging and testing
General cardiology
Interventional cardiology
Heart surgery
Structural heart disease
General doctor visits and device visits are held at the Primary Care Center.
Learn more about the services we offer at the Heart & Vascular Center.
Patient Information
We offer counseling from a registered dietician. If interested, ask your doctor or nurse to refer you. Same-day appointments may be available.
Lab and Test Results
You can view your results in MyChart. If you don't have MyChart access, you'll get your results by phone or mail.
Specialty Clinics
Heart Attack Recovery Clinic
Our heart attack patients are scheduled for a follow-up appointment at the Heart Attack Recovery Clinic one week after being discharged from the hospital. You'll meet with a cardiologist, exercise physiologist, pharmacist and dietitian who will educate you on the steps to recovery.
Club Red is UVA's Heart and Vascular Center initiative for women with risk factors and symptoms. Learn more heart-healthy tips.