Ryan White HIV Clinic
West Complex
Fifth Floor, Hospital Drive Entrance
1300 Jefferson Park Ave.
Charlottesville, VA 22908
Location Hours:
Tuesday | 8:00 a.m. - 12:00 p.m.
Wednesday | 8:00 a.m. - 12:00 p.m.
Thursday | 8:00 a.m. - 12:00 p.m.
Thursday | 1:00 p.m. - 5:00 p.m.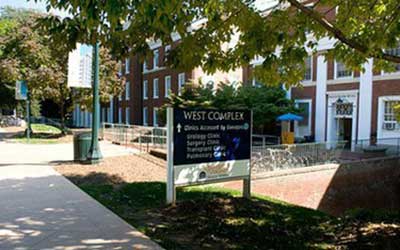 Note: Input West Complex for Google Maps and some GPS devices.
Parking: Free for patients and visitors.
Parking is available in the Lee Street Parking Garage, directly across the street from University Hospital and Emergency Department.
You can also park on Hospital Drive, located off West Main Street. Parking is available in a lot on the right side of the street. The West Complex is on the left side of Hospital Drive. Enter through the first entrance and take Elevator D to the 5th floor.
Floorplan (PDF)
Shuttle service: Runs every 30 minutes, Monday-Friday, 8 a.m. - 6 p.m. Find shuttle stop locations.
Overview
The Ryan White HIV clinic provides treatment, counseling and education for patients with HIV and AIDS.
Learn more about our Ryan White HIV program.