UVA Blue Ridge Endocrinology
Suite 2
199 Spotnap Rd.
Charlottesville, VA 22911
Location Hours:
Meg Crook, MD
Tuesday, Thursday | 8:00 a.m. - 5:00 p.m.
Wednesday, Friday | 8:00 a.m. – 2:00 p.m.
Katarina Topchyan, MD
Monday, Wednesday | 8:00 a.m. – 5:00 p.m.
Thursday | 8:00 a.m. - 12:00 p.m.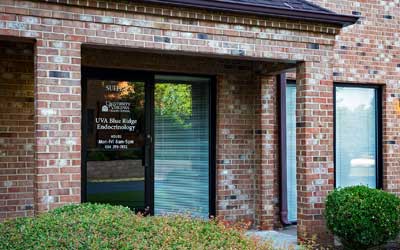 No parking information to display.
Overview
UVA Blue Ridge Endocrinology provides care for a wide variety of endocrine diseases, including diabetes, osteoporosis and disorders of the thyroid, adrenal, pituitary and reproductive glands.
Please allow 48-hour notice when cancelling or rescheduling an appointment.
Learn more about managing diabetes, hormones and metabolism.