Voice and Swallowing Clinic
Fontaine Research Park
Suite 2200
415 Ray C. Hunt Drive
Charlottesville, VA 22908
Location Hours:
Monday - Friday | 8:30 a.m. - 5 p.m.
Patients who are at least 30 minutes late may have to reschedule.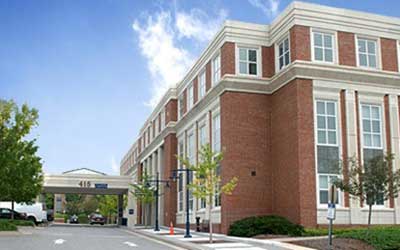 Parking: Free for patients and visitors.
Shuttle service: Runs every 30 minutes Monday - Friday, 8 a.m. - 6 p.m. Find shuttle stop locations.
Overview
We treat ear, nose and throat problems in people who use their voices extensively, including:
Singers
Clergy
Call center employees
Teachers/professors
Coaches
Docents
We see patients ages nine and up, teens and adults. You'll meet with both a doctor and a speech language pathologist, often at the same time.
Using the latest high-definition video technology, our team can get a detailed look at the vocal cords to identify issues. Vocal rehabilitation is provided by our specialty-trained speech pathologists. We strive to give each patient the kind of care normally available only to well-known performers.
We treat:
Voice and swallowing dysfunction due to neurological disease (stroke, Parkinson's disease, laryngeal paralysis)
Polyps, nodules and other benign vocal fold lesions that cause a hoarse voice
Acute and chronic laryngitis, reflux laryngitis, and allergic laryngitis
Muscular tension dysphonia and functional voice disorders
Laryngeal and tracheal stenosis (narrowing of the airway)
Recurrent respiratory papillomatosis
Zenker's diverticulum or cricopharyngeal spasm/bar
Laryngeal (voice box) cancer
Vocal cord paralysis
Acid reflux laryngitis
Services Offered
Examining the vibration of vocal cords with videostroboscope, a special imaging system
Testing the acoustic and aerodynamics of the speaking and singing voice
Laryngeal electromyography (tests the larynx's electric signals to show how muscles are functioning)
Injecting botulinum toxin into the muscle of the throat and larynx for the treatment of adductor and abductor spasmodic dysphonia
Transnasal esophagoscopy, a way to evaluate reflux and swallowing problems by passing a small flexible camera through the nose and into the swallowing tube and stomach, avoiding sedation
Transnasal biopsy of vocal fold lesions (inserting a small flexible camera through the nose into the voice box)
Injection augmentation of the vocal fold for vocal fold paralysis
Laryngeal reconstruction after radiation, trauma and cancer surgery for restoration of voice and airway
Laryngeal conservation surgery and laser surgery for cancer of the larynx
Learn more about our ear, nose and throat services.
Patient Information
Lab Results
You can view your results in MyChart. If you don't have MyChart access, you'll get your results by phone or mail.